Whale Shark season has begun!
The whale shark is the biggest fish that exists on the planet today, it can grow to up 15 meters long(50 Feet). The whale shark prefers the warm surface water in areas where there are outbreaks of colder water rich in nutrients and in the waters between Isla Mujeres and Holbox Island in summer, since these conditions favor the growth of plankton on which they feed. The whale shark has in common with whales except for its size and the fact that only eats tiny plankton collected with his mouth open. Usually it feeds on the surface or slightly below this. Whale sharks are viviparous animals and sometimes sees young calves swimming with the elderly.
Whale sharks are very docile and gentle, they do not get scared when they are approaching divers or swimmers.
Swimming with whale sharks in Mexico is a unique and unforgettable experience!
Location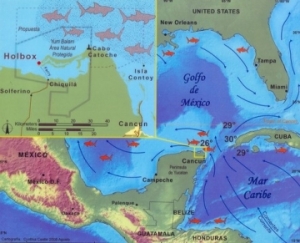 Swimming with the whale shark!  the world's largest fish can only be done in a few places in the world. The area between Holbox Island and Isla Mujeres in Mexico is one of the most privileged places on earth as it is where the highest concentration of whale sharks each season arrives. The best months to see and snorkel with whale sharks are June through September.
Take a look at this Amazing gallery!
For more info on tours go to  www.mexicowhaleshark.com/es/tour-y-nado-tiburon-ballena and enjoy this fabulous experience!
Check out this Video!